Optimize the use of your spaces by publishing on bmyb,
free of charge

.

Amortize your rent now, without distracting yourself from your business. Advice, photos, contracts, invoicing, bmyb takes care of everything.
6 reasons to publish on bmyb.
Simple and free publishing.
Publish now and free of charge an unlimited number of announcements.
Your spaces appear on bmyb.ch within 24h.
Optimum visibility offered.
To offer you the best visibility, bmyb publishes your office spaces on the main real estate portals in your region.
Without charging any fees.
Custom made contracts.
bmyb provides you with custom made contracts and ensures that the application of your future subtenants is complete.
You rent your spaces with confidence, in the best conditions.
No commitment, no exclusivity.
Have you changed your mind or rented your space directly ? Just deactivate your announcements.
The profile of the prospects who came to visit does not correspond to your expectations ?
You have no obligation to rent to our Users.
Photos and personalized advice.
bmyb advises you on the prices and services to include to optimize your rental chances.
And because beautiful photos are essential to attract visits, we include this service in the Advanced package.
Automated invoicing.
So that you do not have to leave your activity for a single second, bmyb.ch takes care of the invoicing of the rents.
Without charging any additional fees.
Publish for free
Sign up and create your announcement : you can set your own conditions and prices..
Our team is always available to advise you.
You do not want to take care of it ? Choose the all-inclusive package and bmyb takes care of everything !
Show your space
As soon as your space is online, bmyb Users contact you directly to visit.
You receive requests for visits by email and can confirm them directly online.
All you have to do is show your space to your future subtenants.
Rent with peace of mind
As soon as a User wishes to rent your space, he makes a reservation from your announcement.
If you validate it, our team will set up the application and send you a contract.
Our platform automatically invoices the rents, all you have to do is hand over the keys.
Choose the best visibility.
bmyb publishes your announcements
bmyb publishes your announcements on the main real estate portals in your region, without charging you any fees.
The publishing depends on the chosen package – Basic, Advanced or All-inclusive – and only office announcements, with quality photos, are published on the portals.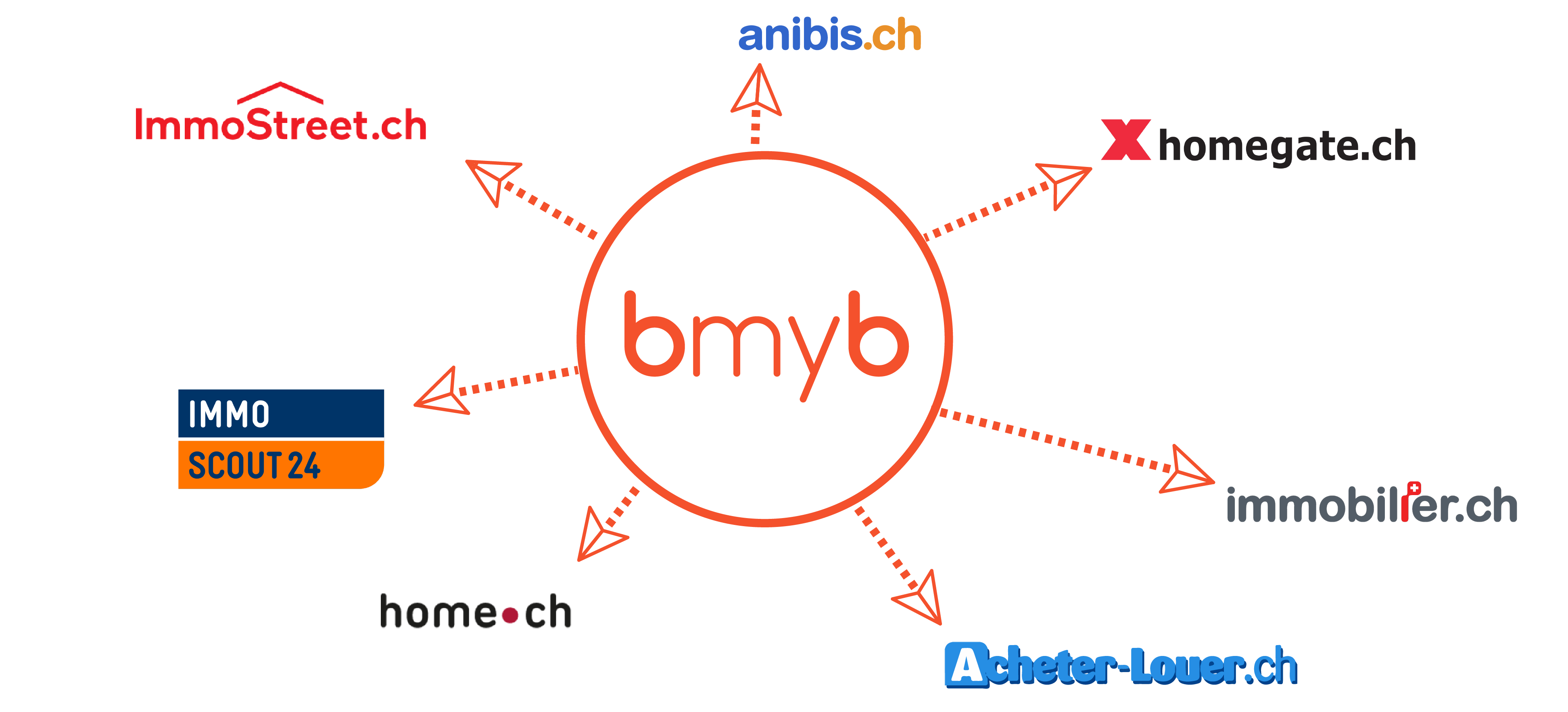 Stay focused on your business.
bmyb takes care of everything.
To ensure that the management of your business remains your priority, bmyb supports your sublease from start to finish.
From advice on rental value to invoicing, including photos, bmyb can help you stay focused on your business.
*Some of the services offered depend on the chosen package.
Price recommendation

Photos*

Creating your announcements*

Publications on portals

Checking the candidate's application

Setting up the rental contract

Invoicing management*

Termination of contract
The remuneration of bmyb.
A one-time or monthly commission is charged when your space is rented. No registration or publication fees are charged.
Do you have any questions about our packages ?
Contact us, we will be happy to help you.